CASC-OR sanctions the RaceOntario Championships, a series or race events run from April through October at Mosport, Shannonville, and Calabogie. The series includes a variety of individual race groups including:
Pirelli GT Sprints
Toyo Tires Formula 1600
Formula 1200
Formula Libre
Formula Four
Radical
VARAC Vintage/Historic
VARAC G70+
VARAC Formula Classic
Each group has one or more races plus qualifying and practice sessions during the 2 day events organized by the CASC-OR member clubs. Here is the https://www.casc.on.ca/road-racing/2022-casc-or-road-racing-schedule – be sure to check back for the most up-to-date schedule.
Road racing with CASC-OR starts with getting a CASC-OR road racing licence.  
The path to obtaining a CASC-OR road racing license is quite simple, it starts with an interview with the Chief Race Coach/Instructor, Paul Subject - contact Paul at racecoach@casc.on.ca. During your interview, you will discuss your background in racing, your racing intentions and interests, the type of car you plan on racing, etc. Paul will guide you to the program best suited to your existing skills and experience as shown below.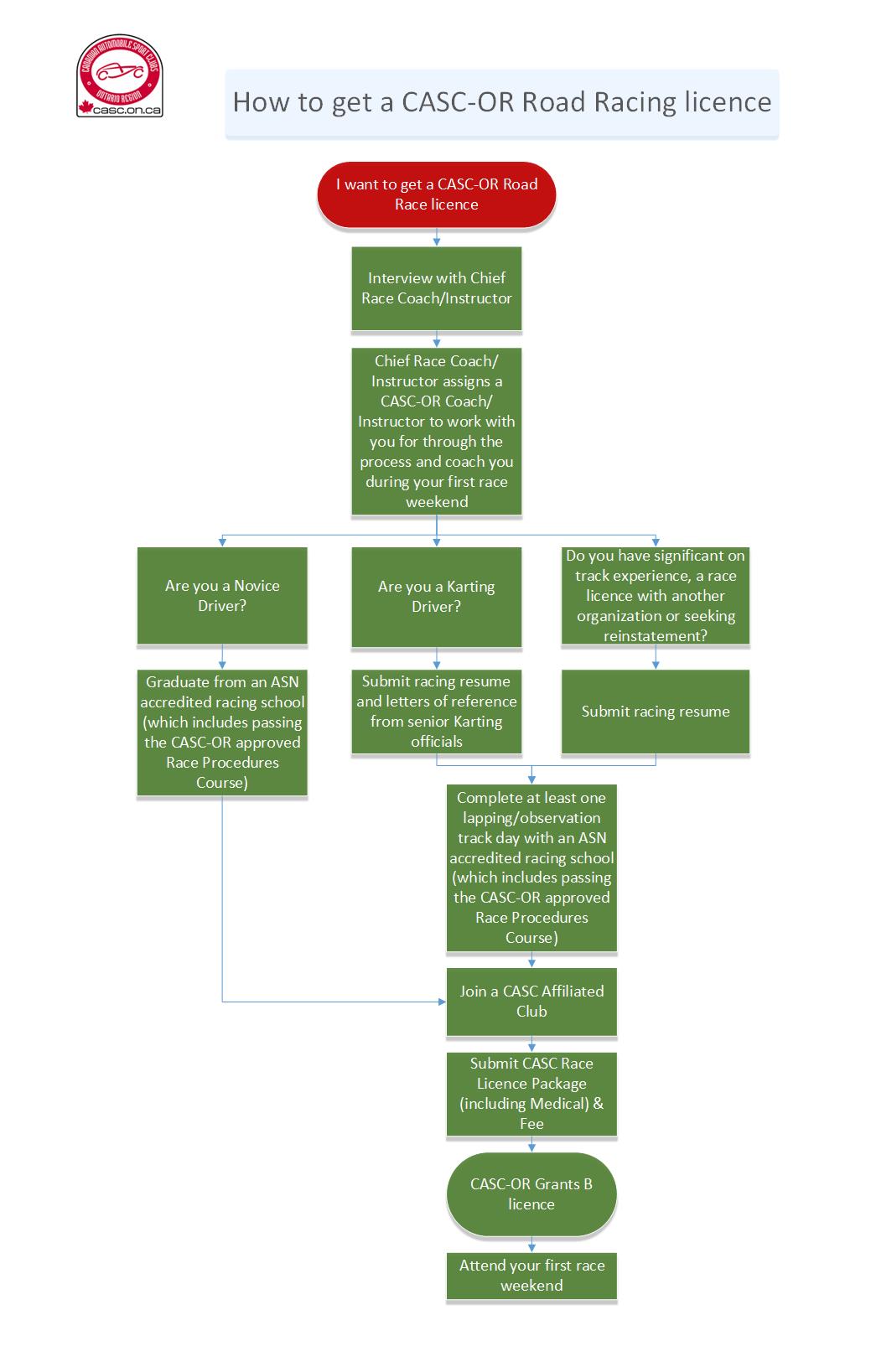 Unless you already have substantial on-track or previous road racing experience with a CASC-OR recognized road racing licence, everyone starts racing in Ontario by successfully completing a CASC-OR sanctioned racing school, which includes passing the CASC-OR approved Race Procedures Exam. Currently, there are two ASN/GDS accredited, CASC-OR sanctioned racing schools in Ontario:
•    Association des Instructeurs de Sport Automobile Race Academy, operating at Calabogie Motorsports Park, and 
•    Brack Driving Concepts, operating at Shannonville Motorsports Park.  
Both of these organizations offer race licence qualification programs, generally throughout the racing season.  For more details, please contact them directly.
After graduation from your racing school, the Chief Race Coach/Instructor will assign you with a CASC-OR Licensed Coach Instructor to mentor you during your first racing season.
Membership in a CASC Ontario Region affiliated club is also required to qualify for your road racing license and for road racing competition. Click here for the list of affiliated clubs in the region. Most of the race organizing clubs have a majority of members involved in racing themselves, and they will gladly answer your questions.
To get your licence, you then submit your graduation certificate from your racing school, the completed CASC-OR licence application – click here for access to the full application form, your completed medical form signed by your doctor, and your club membership information along with the licence fee to the CASC-OR office.
If you already have significant on-track experience, or a CASC-OR recognized road racing licence from another organization, there is a fast track path for you to obtain your CASC-OR racing licence - reach out to Paul Subject at racecoach@casc.on.ca for more information.
Buying a Race Car
The first thing to do in terms of purchasing your own race car is to determine the CASC-OR race group that you plan to participate in.
Pirelli GT Sprints
Toyo Tires Formula 1600
Formula 1200
Formula Libre
Formula Four
Radical
VARAC Vintage/Historic
VARAC G70+
VARAC Formula Classic
Create a budget

Buying the race car is just the first step, in some series it can also be the least expensive part of campaigning a car. Figure out your budget first then do some research on what types of car and competition makes the most sense for your budget.
Start Shopping

Start with specialty websites and forums. The CASC-OR Marketplace Forum has a section featuring race related items for sale, from time to time race cars for sale are listed here. Websites are a great place to start. Try to buy a race car that already has a log book and safety equipment like an approved roll cage, fire suppression, and up-to-date racing seat and harnesses. Your club is an excellent resource for locating a race car. Consider renting a ride from a competitor or prep shop until you locate a car of your own. Race cars are inspected on an annual basis prior to the first race of the season, only those vehicles that meet CASC-OR Race Regulations will be allowed to compete.
Racing involves risk.
The CASC-OR Race Regulations are intended to assist in the conduct of racing competition and to further general safety. The Race Regulations govern all race activities sanctioned by CASC-OR including, events, entrance & drivers, race officials, fees & penalties, licences, rules of the pits & paddock, flags, driver safety equipment, technical inspection, and the configuration & construction of race cars. It is most important that you study the race regulations carefully. Particularly in the area of race car construction including roll cage construction, belt anchor points, etc. to ensure that your race car conforms to the Race Regulations.
Your personal safety equipment is of utmost importance – an "SA" rated racing helmet, a fire retardant racing suit, socks, gloves, balaclava and shoes are required by the rules. Their selection, use and care is equally as important. Be sure to consult the current CASC-OR Race Regulations, talk to experienced competitors, and compare prices and quality at race suppliers, particularly those who sponsor CASC-OR and have their ads appearing on our website.